Notice Bulletin:
推荐产品
Frontier Product Series
Drying Equipment Series
Evaporation and Concentration Equipment Series
Crystallization Equipment Series
Reactor Equipment Series
Chemical product line series
Several Systems Engineering

产品展示
Total Open Type Dryer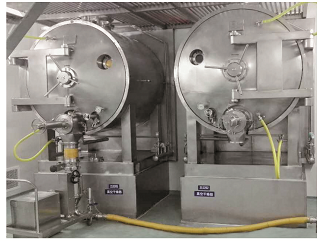 PatentNumber:ZL200520145819.3
Overall Process of Drying:Neither contaminationon material nor to be contaminated by the external environment during the overall process of drying,satisfying the GMP requirement.
Process connections:Links with separation equipment,crushing,subcontract equipment under complete sealed condition to realize the aseptic production.
Application Scope:Drying ofpharmaceutical intermediates,raw material,aseps ispowder,other foodstuff and chemical powder and also has good application for drying mother liquid to power.
StructureandWorkingPrinciple:It features with horizontal structure,quick open front door,convenient cleaning and watching the insidecondition.The innercavity,front door,back cover and rotor are all heatable.There is scraper equipped inside.the scrape can reach to any places inside of it,and the gap can be adjusted to the minimum.It has auto control cabinet.explosion-proo foperation box achieving clockwise and anticlockwise rotation,interval delay operation,stepless speed change,automatic material discharge,
realization of PLC program control.
MainFeatures:It has quick-openfrontdoor,convenientfor cleaning, solventrecove,dγnamic drying, special structure, superstrong drying and mixing.