Notice Bulletin:
推荐产品
Frontier Product Series
Drying Equipment Series
Evaporation and Concentration Equipment Series
Crystallization Equipment Series
Reactor Equipment Series
Chemical product line series
Several Systems Engineering

产品展示
Lifting Film Evaporator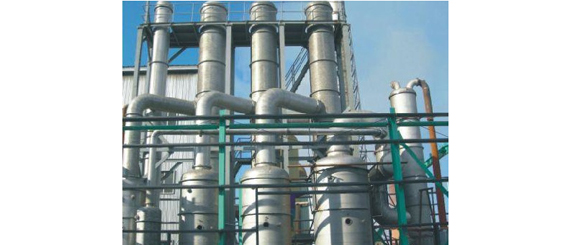 Product overview
After preheating, the feed liquid enters the heating chamber from the bottom of the evaporator, and the heated steam
condenses outside the tube. The feed liquid is heated and boiled in the tube, and the secondary steam rises spirally in
the tube. The feed liquid is pulled onto the inner wall of the tube to form a film-like solution and rises at a high speed,
and evaporates continuously. The vapor-liquid mixture enters the vapor-liquid separator to complete the vapor-liquid
separation. The concentrated finished liquid is collected at the bottom of the separator to overcome the friction
resistance between gravity and wall, so it is not suitable for the solution with high viscosity. In addition, because of the
large temperature difference and the large heat transfer coefficient of the liquid film, and the small amount of material
and liquid on the unit heat transfer surface, it is easy to crystallize and scale in the tube. When the temperature is too
high and the liquid film ratio is too large, even carbonization will occur, the rising film type evaporator is not applicable
for the solution evaporation with a high end-point concentration. The ratio of length to diameter can reach 100-300.
Because of the low hydrostatic level in the tube, the boiling point raised by the hydrostatic head is very small.
1.Small area, low space height, compact structure, low cost, less investment
2. continuous operation, but can also be intermittent operation
3.easy cleaning, low labor intensity, and can be used to clean liquid circulation
4. material circulation is good, not easy to cokeunder standized operation
It is applicable for evaporation of high evaporation, heat sensitive materials and foam prone solutions, but it is not
suitable for evaporation with high viscosity, high end point concentration, crystal precipitation, easy scaling and high
requirements. It is widely used in fine chemical industry, pharmacy, light industry, food, alcohol, beverage,
environmental protection and other industries.