Notice Bulletin:
推荐产品
Frontier Product Series
Drying Equipment Series
Evaporation and Concentration Equipment Series
Crystallization Equipment Series
Reactor Equipment Series
Chemical product line series
Several Systems Engineering

产品展示
Spherical"4-In-1" Multifunctional Machine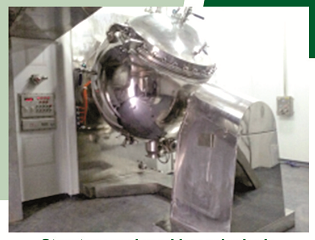 Application Scope
It is used in pharmaceutical and chemical products. It has the supreme advantage in the industry of production process for the flammables & explosives, hazardous & volatile and sterile raw active pharmaceutical ingredients which are difficult to be transferred from none-integrated equipment.
Customizable function based on customer`s requirements.
Structure working principal: Spherical Four In-One Equipment is consisted of ball shape inner cavity and tilted rotor, the inner cavity and rotor are able to rotate independently. Both rotor and shell (cavity) are able to be heated. The cavity is smooth and has no dead angle achieving the maximum heating area and sufficient suction filtration area under the same volume. It has good pressure resistance ability, no contamination to the material, high efficient. good hygiene condition and energy saving. Through PLC auto control cabinet. it is able to achieve rotate right and left, interval deoperation, stepless speed regulating and automatic mate rral discharge.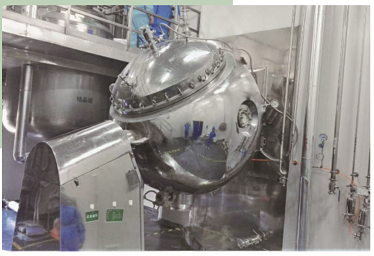 Main features:
One equipment is able to replace the equipment such as crystallizer,centrifuge, washer and dryer with the advantages of high efficiency, low energy consumption, safe and Eco-friendly. It has high mixing capacity and initial chopping function. While dynamic vacuum mixing drying process, the scrape and agitating can reach toeach places in the cavity,no blocking, no pilling, completematerial discharge, no contamination of the material, the inside of the machine is smooth without dead corner.It features with automatic material feeding and discharge, on-line cleaning and sterilization, satisfying new GMP version or FDA requirements.